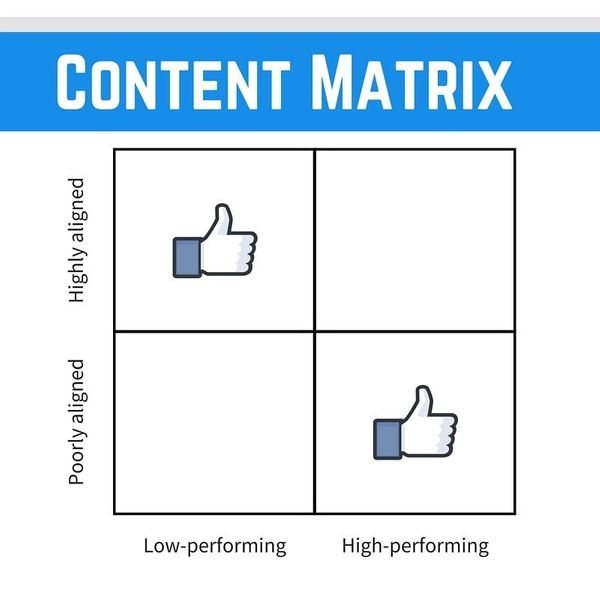 The 5 Elements of a Powerful Content Marketing Strategy
An effective Content Marketing strategy should have these five core elements to be successful: audience personas, brand positioning, owned media value proposition, business case, and an action plan. Let's see why these elements are essential and how you can start implementing each of them.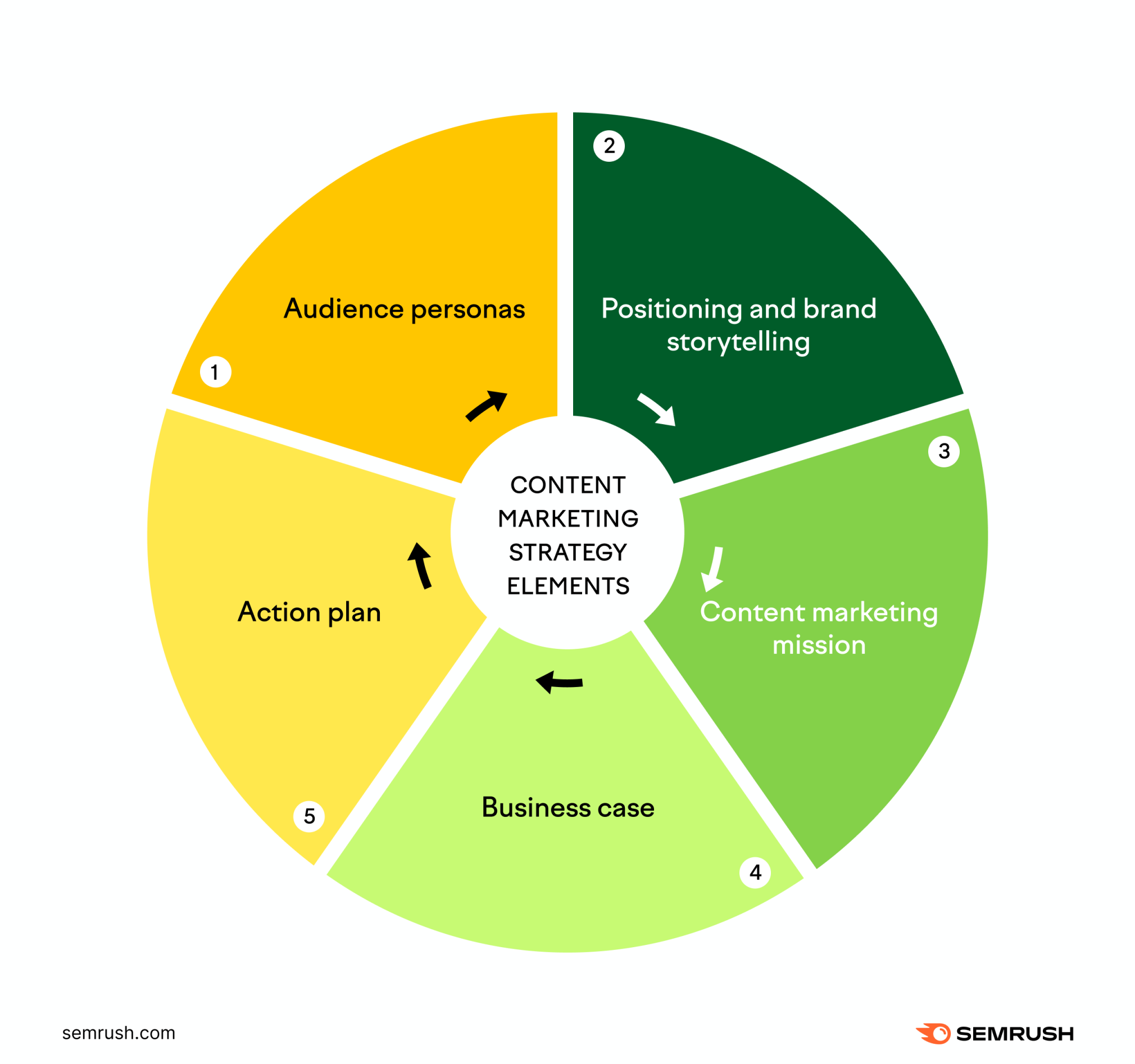 1. Audience Personas
You can't really tell the story of your brand if you don't know who you are telling your story to. That's why your first step will be to identify the audience you are attempting to target with your content. There are multiple ways to do this:
Once you have your audience in mind, you can use our free Personas tool to put them into writing. You'll want to be able to clearly and succinctly communicate who your audience is to all stakeholders and anyone involved in brand messaging. Start by exploring these persona examples for your inspiration.
2. Positioning Your Brand and Story
Use this information to shape the main pillars of your brand story. A brand story is a summary of your company's history, mission, purpose, and values. It can help you choose the right direction in your content marketing strategy, identifying to right messages and topics to translate with your content.
3. Content Marketing Mission Statement and Owned Media Value Proposition
To establish your brand as a credible content publisher, define your owned media value proposition. It'll help you find a differentiation point in your content strategy and compete more effectively. To do so, answer the following questions:
4. Business Case and Content Marketing Goals
Identify business goals your company needs to achieve and figure out how content marketing will bring your company closer to those goals. How many resources do you need to invest in your content strategy and what results do you want to generate?
5. Action Plan
Finally, you will list out your main content marketing campaigns and projects on deck for the year and add them to your content plan. Think about how they will achieve the content marketing goals you've previously set for your business.
To decide on your optimal content formats and channels, you'll need to look at your historical content performance and further analyze your audience, which we'll discuss later. If you need inspiration, check out our 2022 list of the most remarkable content marketing examples.
7 Steps to Creating a Complete Content Strategy
Long-term planning allows you to anticipate challenges and allocate resources effectively. Laying out these seven steps will help you develop and implement a content strategy aligned with your marketing and business goals.
As mentioned earlier, you must document your plan. This could be a slide deck, a Google document, a spreadsheet, or another format that works well for your business model and can be easily shared with all essential stakeholders.
Step 1: Determine Your Audience and the Story You Want to Tell with Your Content
While your buyer personas will form the base for your content strategy, your audience isn't solely made up of buyers. Audiences include people who begin interacting with your brand long before they intend to make a purchase.
Besides, becoming a valuable source of information can help you build a community of brand advocates who will spread the word and strengthen your thought leadership. We sometimes call these people "reader personas", highlighting that it's all about delivering value to your audiences vs. pushing your products or services.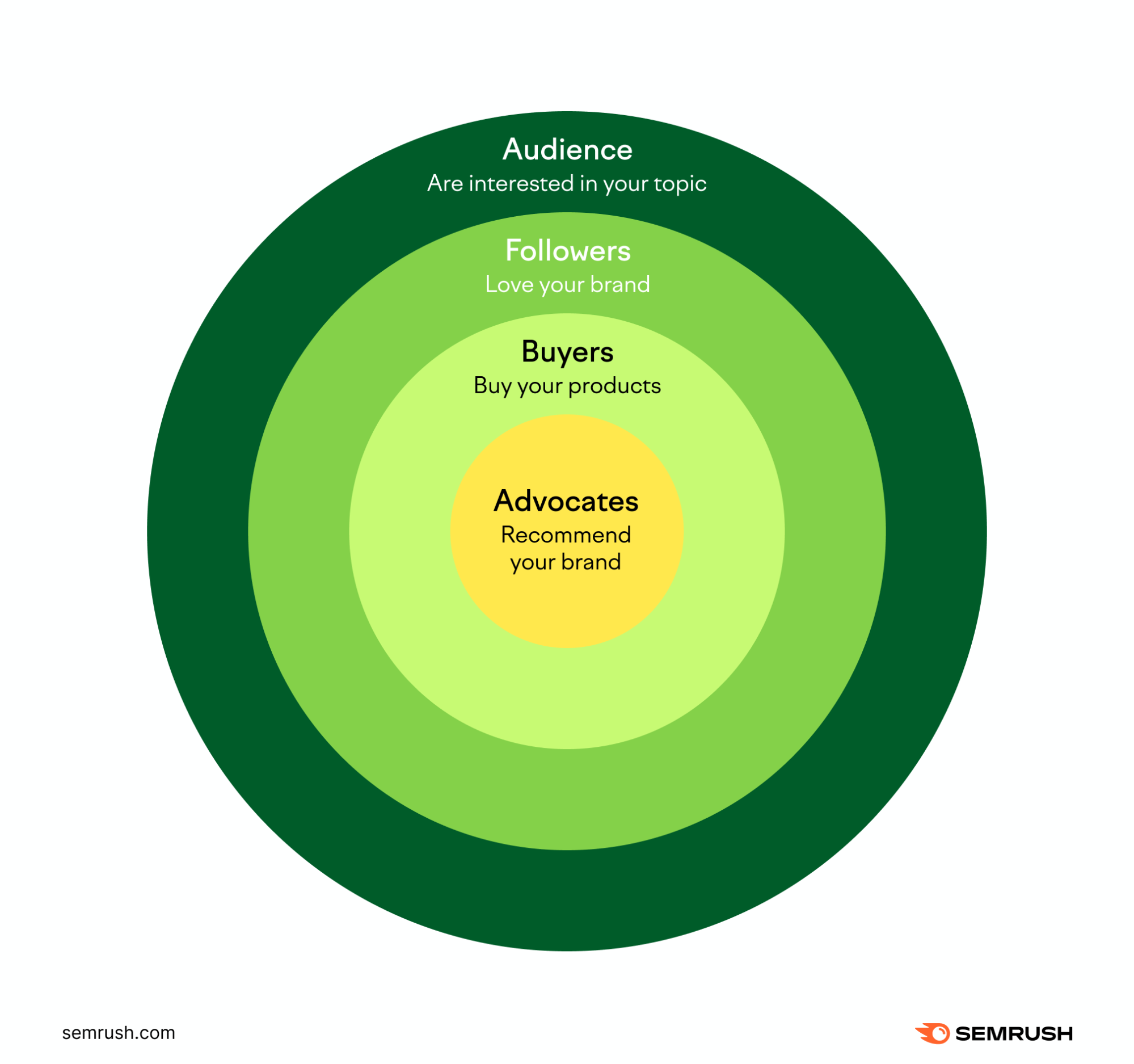 Red Bull is an excellent example of a brand that creates content for audiences, not buyers. Red Bull's owned media doesn't focus on its product; it covers topics the audience is interested in, like extreme sports and once-in-a-lifetime experiences. You can easily identify the target audience—young and adventurous people, passionate about sport and an active lifestyle.
Red Bull showcases the importance of integrating your brand story into every content piece and every message sent to your audience. Remember about your mission, where you stand, and why you are sharing content in the first place. Creating this unique voice and character can help you stand out in the age of "content shock."
The Empathy Map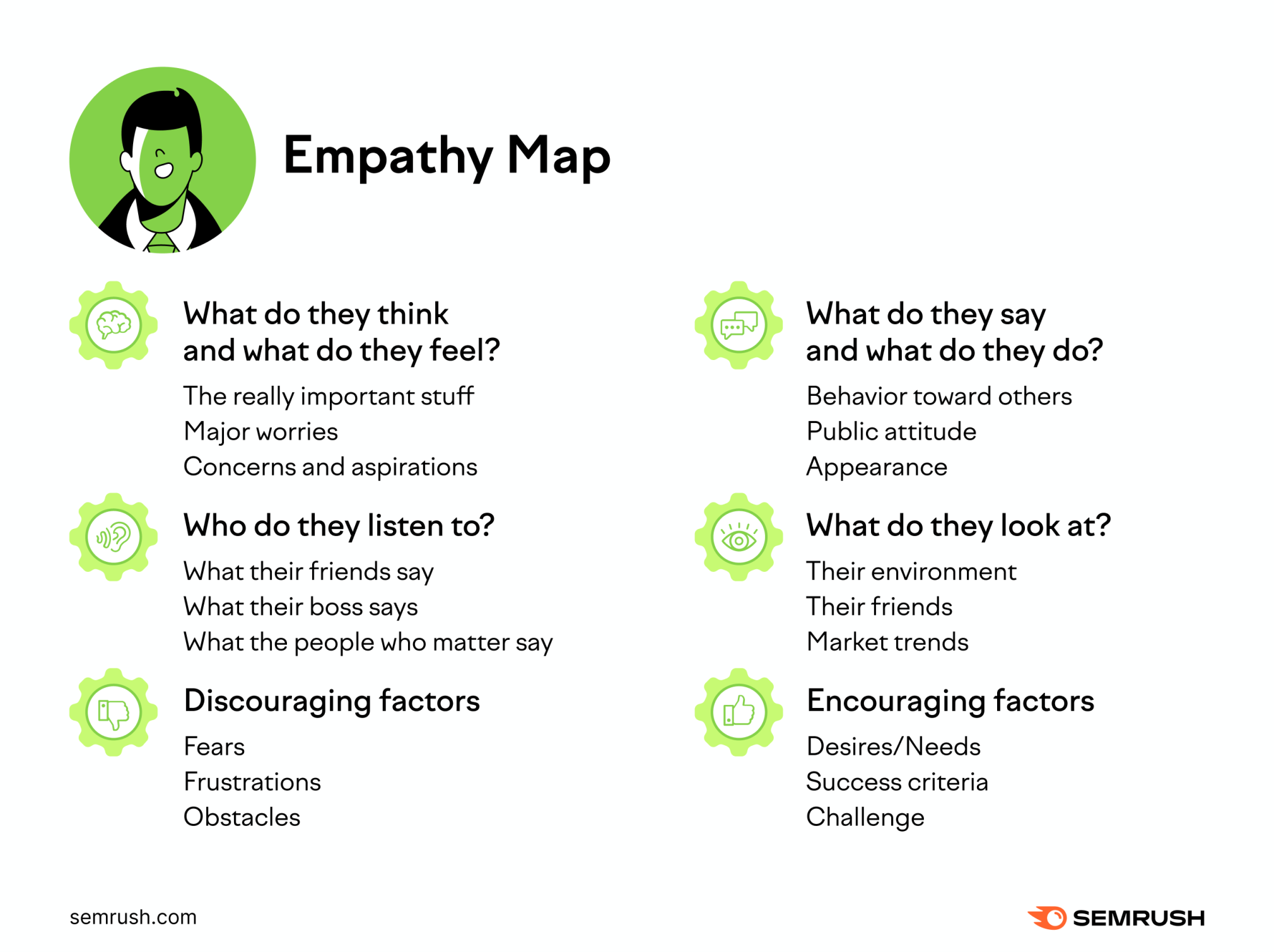 The "Jobs to Be Done" Framework
For example: When I work, I spend too much time completing all my tasks, that's why I want to find a tool to improve my time management, so I can spend more time with my family.
Once you have an understanding of the prospect's current problem, the solution they need, and the result they envision, you can create compelling content that can transform them from newcomers into your brand advocates.
Step 2: Analyze Historical Content Performance and Establish Your Content Marketing Goals
Such metrics might be primary: e.g., revenue generated by content marketing or organic traffic and the number of leads. Others might be secondary: e.g., organic traffic, ranking, and shares.
Remember that we all live in a world of limited resources. Your goals and plans are closely tied to the available budget and capacity of your team. So, make sure to take this into account when setting your targets.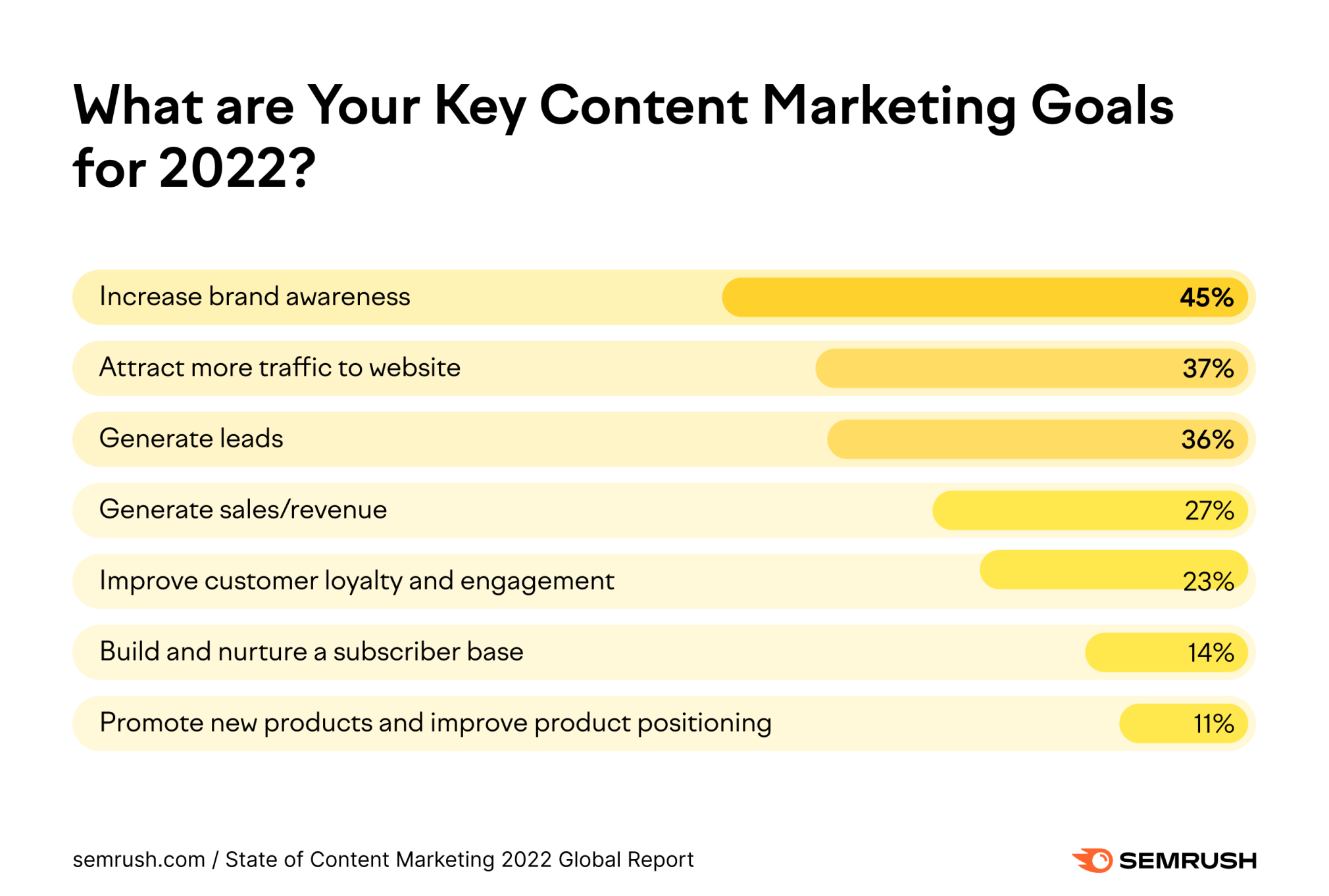 But we encourage you to always look at the bigger picture and see content marketing as an integral part of your overall marketing strategy. An example of an overarching goal could be: "In 2022, we want to achieve a 20% increase in revenue created by organic content and generate 15,000 MQLs with a budget of $30,000."
Pro tip: Take the buyer's journey into account when setting your content strategy goals. For example, in B2B, the sales cycle tends to be much longer than in B2C. So, multitouch attribution would be more optimal when analyzing your content performance and defining your KPIs (key performance indicators).
Goal-Setting Frameworks
Let's look at some progressive goal-setting frameworks that can help you at this step. While you may be more comfortable with traditional goal-setting frameworks like SMART (Specific, Measurable, Achievable, Relevant, and Time-Bound) goals, flexibility is key to setting realistic benchmarks. Consider using the framework CLEAR, which can help you become more agile in a fast-changing environment.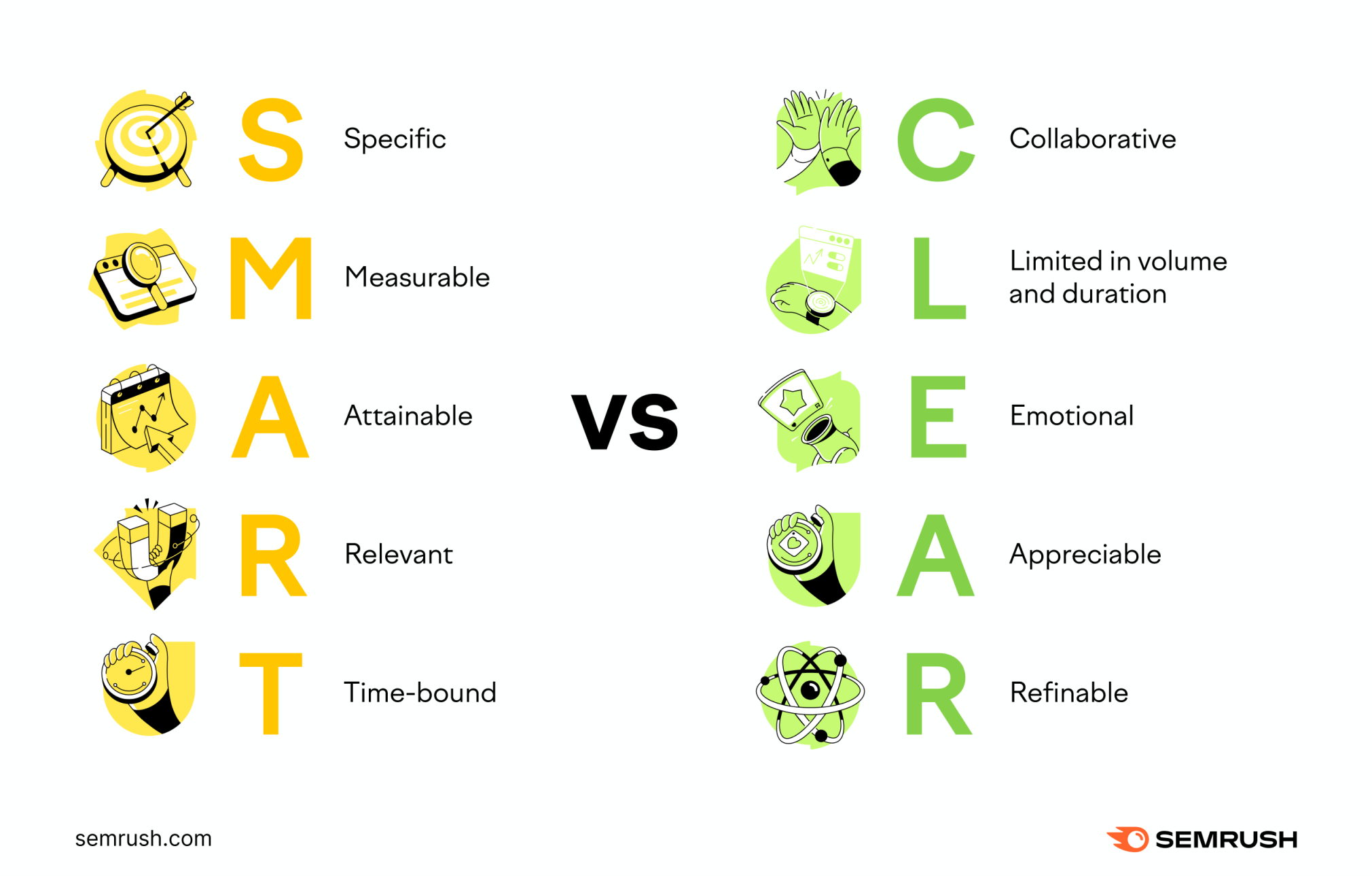 With this approach, you can target an ambitious result, but set a minimum threshold for reaching the goal. Progress indicators (0–100%) allow each team member to see how attainable each goal is and understand what remains to be accomplished.
Content-market fit
As important as it is to understand your customer, it's also important to understand the current state of content in your industry to look for opportunities. Be sure to also pay attention to the state of media behavior and content consumption formats, including device usage and visual trends. The key is to find your unique place to stand out and add value to the conversation. Simply put, the goal of a content-market fit is distributing content to attract and retain customers.
Every effective content program requires an iterative process that helps your team focus on what's important: translating creativity into effective content. To build an efficient content marketing machine, consider the following:
Group content into a few core buckets (eg, videos, blogs, ebooks, microsites)
Design a 'best practices' workflow for each core content type. Think about where each content type begins, who owns the business requirements and brief development process, when/where resources need to be turned on or off, how feedback and approvals are coordinated, how to measure each step, and who's responsible for the final output.
Meet with stakeholders and members of your team to see whether your 'best case' process is possible and makes sense for them. Identify what might be missing or that you haven't thought of?
Test the process. Does it work? Where are the gaps? Where are the breaking points? Processes will mature and develop over time. Stay cognizant of production time and resource requirements. Regularly check in with teams about any frustrations.
Incorporate habits. Making your new workflows a habit is what will allow you to truly scale your content strategy. Enforce your new workflows internally and find champions at each checkpoint to help you.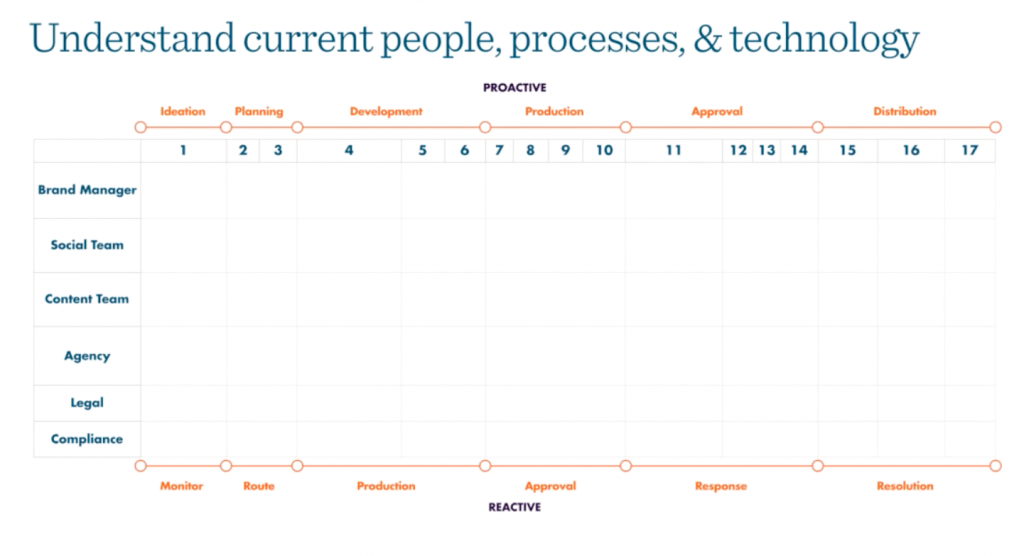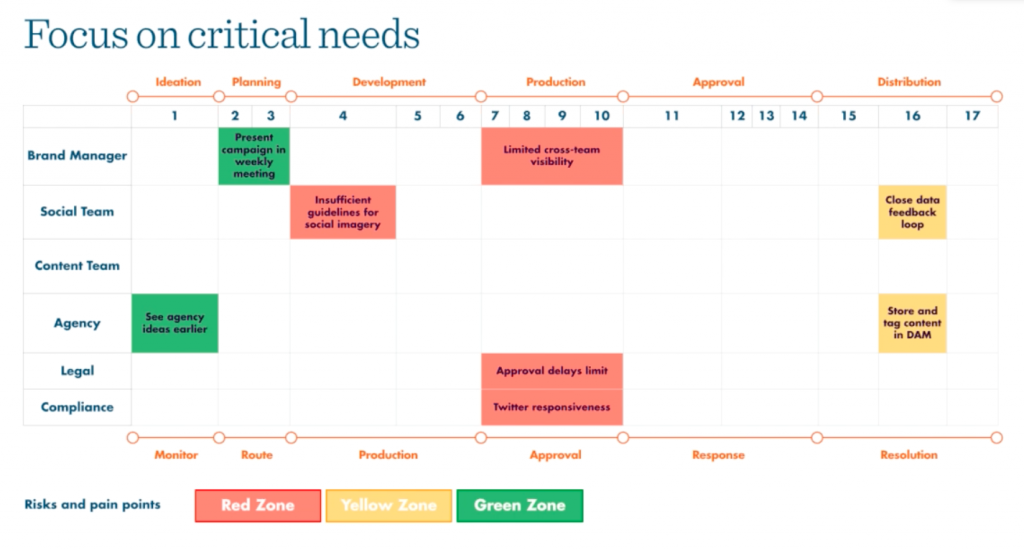 Internal communications plan
An internal communications strategy can be a recipe for success, but without a detailed plan to execute that strategy, there may be a breakdown in your process. Your content team can bring in diverse voices — your head of communications, customer marketing, product marketing, and senior marketing management — to ensure they're aligned with your strategy. This is particularly useful if your content team is operating as a 'service' function for other parts of the organization.
Consistency is essential when building a digital presence, and a great way to have everyone in the loop is to manage a joint content calendar. This tool will help you plan and stick to a consistent schedule of publishing content. It can include information about the content format, time of posting, channels, and so on.
Step 6 (optional): Heroes and watering holes
You're laying a terrific foundation for your content strategy. You've dug through your personas' deepest wants and needs and mapped those to your product. You're getting an idea of what kinds of problems your content needs to solve. Things are starting to take shape.
This is a fun exercise I've nicknamed "heroes and watering holes." (You can probably come up with a better name for it!) I call them that because at this stage in the content marketing plan, it's good to start thinking of the sources of information the audience already trusts. Those sources generally fall into two groups:
If you examine where your audience is already going for information, you can get a more comprehensive view of the content marketplace. It can help protect you from trying to reinvent any content wheels, and it can give you some awesome ideas for guest posting—the lifeblood of the early content marketing strategy at Buffer!
Resources:
https://www.semrush.com/blog/content-marketing-strategy-guide/
https://seismic.com/blog/the-11-essential-elements-of-a-content-marketing-strategy/
https://www.digitalmarketer.com/digital-marketing/content-marketing-strategy/
https://buffer.com/library/content-marketing-strategy/